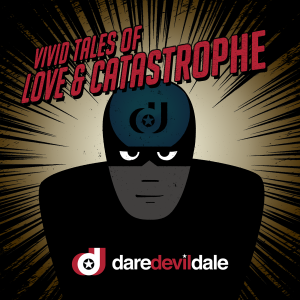 WELCOME TO PULP ROCK.
Conceptually dark and unflinchingly hopeful, the world illuminated in the new album, Vivid Tales of Love & Catastrophe, is the creation of experienced musician Doli Stepniewski. Starring here as alter ego, DareDevilDale, Doli single-handedly weaves together a collection of progressive human experience, as stirring as it is catchy.
Steered by Doli's one-man-band approach to performance and production, DareDevilDale comes to life as our champion through the relatable, everyday hero stories of the album's rich characters:
"Close your eyes and open up your mind… Can you believe what you'll be when you're ready?" he sings in the album's sunshiny opening track, "Next Big Thing." And from a deliciously violent overthrow of convention in "Big Bang," to addiction and combative relationships in the driving, "Friction," listeners are compelled to hold on through the rollicking ups-and-downs of the album's ten tracks of unapologetically sensational reality.
PEOPLE ARE TALKING
"Dark and ominous energy with a sense of mystery!"
"Killer, catchy. I could definitely hear this blasting on the loudspeakers at a dance club!"
"This sound sounds like nothing I've heard before. Fast driving beats, with a pumping bass and catchy riffs. Pet Shop Boys meets pop rock boy band! Crazy fusion."